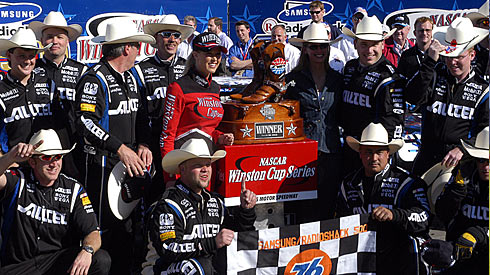 Samsung/Radio Shack 500
Texas Motor Speedway
Please show a little patience when reading this story. I'm working on 11 month old memories.
Our first NASCAR race proved to be eventful. We left for the Samsung/Radio Shack 500 at the Texas Motor Speedway on Friday, March 28th. I had gone to work that Friday at 3:30 in the morning, so I was already tired before we even left that afternoon. Annita decided to drive the first leg of the trip, so I could rest up. An hour later we arrived at Garden City.
It was going to be a quick stop to pick up a few things before the longer sojourn. We ended up stopping at The Buckle for Annita to pick up some jeans. The poor kid that was waiting on her thought she was speaking in a foreign language. Everytime she would ask him for something, he'd get a look on his face like he'd been poleaxed. I'm used to her Kiwi accent and would translate for him. He'd shake his head to clear it, and then go on until Annita asked another question, then the blank look would reappear. He finally asked where she was from, to which she replied, "Dighton." That REALLY confused him. I added, "Which explains the accent, right?" Annita has been in Kansas long enough that she doesn't think about it anymore. She corrected herself and told him she was from New Zealand. That pretty much set the stage for the weekend's festivities.
We decided to stop at Quizno's for a sub (to eat on the road). Once inside, we both saw the broccoli and cheese soup they have, and decided to share a small bowl. So much for eating on the road.
After that, we made one more stop. Downtown Garden City has a small store by the name of Totally NASCAR. We stopped there for gear. I bought a Sterling Marlin T-Shirt (that doesn't say Coors Light ANYWHERE!!!!!) and a Ryan Newman shirt.
Annita decided that I should take over the driving responsibilities for a while. In another hour, we were in Liberal Kansas (home of Toto and Dorothy). By this point, Annita was sound asleep. This was signalled to me when I thought Paul Bunyon had fired up an appropriately sized chainsaw in the backseat of the car. Once I realized there weren't any trees in danger of being harvested, I continued.
After another couple of hours, we arrived at Canadian Texas. Annita decided that it was her turn to drive, because I just wasn't going fast enough for her taste. Admittedly, I used to drive at excessive speeds, but I've matured and I've grown to appreciate the laws governing the highways and byways of this great country......OK.....I don't have cleavage or an accent, so I can't bat my eyes at the officer and get away with just a warning.
We didn't make it 10 miles out of Canadian before Annita was pulled over for speeding. Once again, thanks to cleavage and accent, she AGAIN got a warning. We didn't go another 10 miles after that and another highway patrolman flashed his lights at her. I suggested that maybe she drive the speed limit.
At Childress, we hung a left and began proceeding in a roughly southeasterly course. I tried to sleep when I could. Annita pulled over at a small town somewhere between Wichita Falls and Dallas to let me take over.
I drove straight as an arrow to our destination....A hotel somewhere in the Dallas/Fort Worth area in the middle of the friggin' night. Just a sec......Annita is complaining about something.....She remembers something about a small detour somewhere along there (OK.....A COUPLE of detours), but we all know that she must have been dreaming that part. We fell into bed at the hotel and didn't stir until morning.
The next morning, we began making our way to the Texas Motor Speedway. We stopped at a HUGE Dodge dealer that had a Bill Elliot car on display. Once we arrived at the speedway, we couldn't believe our eyes. You always hear about the 100,000 or 175,000 people that are in the stands at the race. What you don't hear about are the 200,000 or so people that camp out BESIDE the track to enjoy the weekend. It really is just like the NASCAR commercial you see on TV: "Just pick a number." As far as the eye could see in all directions, there were campers with home-made flag poles sporting numbers for all drivers, past and present.
This was a Saturday, and the Busch race hadn't started yet. We were making our way to the small dirt track beside the mile and a half paved oval that the NASCAR races would take place on. I had ordered our World of Outlaws Sprint Car tickets online and they were waiting on us when we arrived. We sat in the parking lot that was easily 2 football fields from the backstretch grandstands of the paved track, but you could feel the power emanating from the roar of the engines. I spent most of the afternoon with a huge grin on my face, similar to the "kid in a candy store" look, that couldn't be removed with a burrilo pad and a stick of dynamite.
I had no idea how friggin' cold it gets in Texas. Annita and I hadn't planned ahead enough. We sat in the stands for the WOO show and almost froze to death. We brought the blanket she keeps in the backseat up in the stands and wrapped ourselves in it, using each other for heat (let me rephrase that, I was using the blanket to try and retain any heat I had in me while Annita was wrapped around me trying to leech all the heat out of my body). We watched all of qualifying, getting the shit scared out of us when Apache helictopters buzzed the grandstands (from the back to the front, so we couldn't see or hear them coming). I tried to snap some pictures of them, but they were never that good. The thing that amazed me that night was the roar. There were 10 or 12 Outlaw Sprint cars on the track not 20 feet away from us. Anyone whose ever been to regular sprint car races know how loud these cars are. In the meantime, there was one Winston Cup car on the track that was 2 or 3 football fields away from us. That one Winston Cup car was drowning out the 10 or 12 cars directly in front of us. They brought out one class of cars that sounded like a swarm of angry bumble bees when they dropped the green and promptly piled up about 8 or 10 of them. That was the deciding factor, and we left the facility.
We went back to the hotel and made our way down to the bar. It was a Krapiokie bar (emphasis on the CRAP syllable!!!!). When we arrived, there was a couple of guys absolutely butchering KISS's Detroit Rock City. But it was OK, one of the guys complimented me on my Dodge Motorsports jacket (he was the first, but wasn't the last). Neeter was quick to point out how drunk the guy was, trying to associate his state with his opinion of my jacket. I beg to differ.....He wasn't wearing "beer goggles." I never saw him hit on one fat chick the whole night.
The next morning, we loaded the car back up and made our way to the track. We loaded up our coolers, Neeter's with bottled water (YUCK!!!!!) and mine was sensibly packed with close to a case of Bud Light. We left the coolers in the car and began making our way to the merchandise trailers. We made our rounds, visiting various sites, including the Petty Experience trailer and the Dodge tent which had a full-scale #9 car that you could have your picture taken with (they were using Polaroid camera's), as well as a full-scale mockup of Mayfield's #19 Dodge. They also had a cutaway of the Mopar powerplant on display. While wandering around, I found a vehicle with a sticker that pretty much sums up my feelings about Jeff Gordon. They also had a jet on display.
We were told before we left to make sure we rented the "scanners" used at the track. They are kind of like the headsets that you see on shooting ranges, except they have speakers in each "ear-muff" connected to a scanner that allows you to listen to a particular drivers "radio traffic." You can select a particular drivers channel, or you can just scan for any traffic.
Once we decided we'd seen enough, we made our way back to the car to drop off all the additional merchandise we'd picked up on our sojourn, and grabbed our coolers. On our way back to the car, I had another gentleman (this one was sober) compliment me on my jacket. He didn't have a seeing-eye dog and a cane, so I'll take his opinion as gospel. We then made our way to the gate and presented our tickets. Just inside the gate, they were handing out small U.S. flags. We made our way to our section of the grandstands and looked up. Our ticket showed us in row 65. Luckily, my cooler had wheels, and it was packed with Bud LIGHT!!!!!
5 rows up the stairs, I realized the wheels were of absolutely no use. I picked the cooler up and began to carry it, along with my binoculars, my camera, my Dodge coozie and seat cushion, the track propoganda, and the damn scanner/headsets. After stopping for 2 or 3 rest breaks, I reached row 50 and began to wonder if the damn grandstands even HAD 65 rows!!!!! I also began to think that maybe they had packed my case of Bud Light with REGULAR beer, because it didn't FEEL any lighter!!!!!
Luckily, I was wrong about the number of rows.....There were actually 66 rows. Unfortunately, the last 20 or so were under the roof (which was the floor of the booths above us), which made it approximately 15 degrees above absolute zero!!!!! Since the grandstand was almost deserted at this time, we deposited our gear and made our way back down the steps into the sunshine.
Once the stands started to fill up, we made our way back to our seats. We were soon joined by more Dightonians: Dan and Chris Mumma and Roger and Sheila Scheib (who we had purchased the tickets from). That put a huge section of Dightonians in our row.
I watched most of the pre-race festivities through my binoculars, particulary when Britney's Pears.....I mean, Britney Spears came out.
I took some pictures of what it looks like from the top of the grandstands looking out over the merchandise trailers and the parking lots......One.....Two.....Three.
During the parade lape, I was able to snap a picture of McMurray and Newman that shows you just how far up in the stands we were.
The thing that sticks in my mind the most about the race was the crowd. I could look left and look right, and all I could see was people. I spent most of the race on my feet, only sitting down during cautions. The "seat" part of the seats were spring-loaded so that when you stood up, the seat would "snap" up. I'll never forget the "thump, thump, thump" sound of 150,000 seats snapping up in both directions as everyone stood up when the pace car dove off the track and onto pit road.
The green flag dropped, and away they went. Even with the muffs on, the roar was unbelievable. Bill Elliot quickly showed his strength by taking the lead and marching away from the field, leading 43 of the first 46 laps after starting 6th. I had mixed emotions about that fact. The first thing that comes to mind is the fact that he's in a Dodge, which is HUGE.....I'll root for anyone in a Dodge (unless it's Jeffie Pooh, his "queer in training" Johnson, or "I Don't Know How to Drive a Racecar" Harvick). Another plus was the fact that I had drafted him into my NASCAR Fantasy League. The downside to this was the fact that I had benched him this week, deciding to run McMurray, Newman, and Marlin. My fears were short lived though, which caused another mix of emotions. Him leading the race was obliterated when he did the same to his engine.
Newman became a force to be reckoned with. I thought he was a hell of a driver the year before when he and team mate Rusty Wallace were in Fords driving for Penske. I was happy for him when he won the Raybesto's Rookie of the Year in 2002, and was elated when I found out that Penske was switching to Dodge power for the 2003 season. Newman started out the season slow when he rolled his Intrepid R/T (it does NOT stand for "Really a Taurus") early in the Daytona 500, planting him firmly in 43rd place in the points. But he had been making progress. After six races, he was up to 15th in points.
I don't remember the exact circumstances, but somehow, late in the race, Jeffie Pooh and a whole bunch of other drivers were caught a lap down due to a caution flag after they had pitted. I was absolutely giddy!!! They had just pitted, and elected not to stop under the caution, which put them just in front of the leaders when the green flag dropped. I made the comment to Neeter that if a caution fell quickly, they were going to get their lap back. I don't think they even went five laps before something happened. I began cursing at a high rate of speed, and with quite a few decibels. Neeter is pulling on my sleeve the whole time I'm making disparaging remarks about his ancestors (particularly his mother), his sexual preferences, and his ability (or lack thereof) to drive a race car cleanly. After my 10 or 15 minute tirade (with Neeter pulling on my sleeve saying, "Shhh!!!!" the whole time), I began to look around. NOTHING but Earnhardt Jr. and Gordon fans. There was a couple sitting on our right decked out in Gay Gordon attire. Some people have absolutely no taste. I was beginning to think that this lone Dodge fan was in over his head when a head right in front of me turned, covered in a red ball cap with a big white number 8 on the front of it and said, "I couldn't agree with you more."
Neeter and I tuned into Newman's channel to listen to his radio chatter. With 46 laps left to go, Newman led the field around to the green. It didn't take long for Earnhardt Jr. to pass him for the lead. The crowd went wild.....Except for the Gordon fans, and the two Dodge fans. Newman's radio was pretty quiet as Earnhardt began marching away. Gordon was holding his ground in 3rd, not gaining, but not losing ground. I was crushed. Then came the words I wanted to hear. Someone on Newman's crew came on the radio and said, "The 8 car is complaining that his car is pushing." Neeter and I looked at each other and grinned. Every couple of laps someone would call out lap times of Newman and Jr. on Newman's radio, followed by a "Keep digging" or similar comment. The gap was narrowing. With 11 laps to go, Newman passed Earnhardt and I screamed my head off. I haven't had the chance to ask Ryan if he heard me in his car, but every Earnhardt and Gordon fan in the stadium turned to look at me, with my Dodge Motorsports jacket and hat (American flags sticking up out of the back) with my arm upraised, screaming my lungs out. With 3 or 4 laps left to go, Gordon had caught Earnhardt. I knew that Ryan had this one in the bag, so I was watching him out of the corner of my eye and watched Earnhardt try to fend off Gordon. It came down to the last lap, and I think Earnhardt bounced off Gordon purposefully to keep the spot. My only problem with that is that he didn't "put him in the wall!"
I snapped a couple pictures of Newman's victory burnout.....One......Two.....Three.....Four.
We stayed up in the stands for a while to let the crowds work their way out. Once out in the car, we sat for awhile to let the cars work their way out. I decided to take a nap (or pass out, whichever you prefer). We had earlier decided that we wouldn't work our way east to the hotel for the night, we'd start home and stop somewhere for the night. This proved to be a horrible mistake.
I caught Brooks Wick (who we had gotten the hotel rooms from) and was giving him a hard time about beating him in our Fantasy League by a whopping 5 points or so. He said that he should have gotten our cell number before we'd left. He has season tickets down at Texas, and as such, has pit passes. He said they didn't check ID's or anything and he was going to let us use his and his wifes pit passes to go to the infield and look around. I just about shit myself.....What was I thinking??? I KNEW we should have given him our cell numbers. Then, to cap it all off, he asked why we didn't come back to the hotel the night of the race. I explained our motives and he told us that they had gone down to the bar and was partying with Todd Bodine's pit crew IN THE SAME DAMN BAR WE WERE AT THE NIGHT BEFORE!!!!! I was PISSED!!!!
Anyway.....That's my story. Hopefully it won't take long before I have my KC NASCAR trip story put in also.