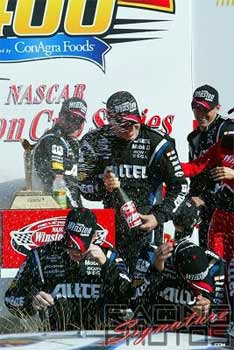 Banquet 400
Kansas Speedway
After all the hoopla about our trip to Texas, along with Amy's growing interest in NASCAR (along with "the hots" for Jamie McMurray), Annita was able to secure us tickets to the Busch and Winston Cup races, along with tickets to the Coca-Cola VIP tents. She was only able to get 2 tickets to each event, so Amy and Annita went to the Busch race on Saturday and Annita and I went to the Winston Cup race on Sunday. It was another good weekend......
We left Friday morning and headed to Manhattan, where Amy is going to college. We left ourselves plenty of time to eat lunch at Rock-A-Belly Deli. I also made sure I saved enough room to drink a Bud Light "Big Girl." I couldn't resist the temptation to call Jeff Schmalzried to tell him where I was eating. I was actually returning the favor from when he called me while he was at Rock-A-Belly. He asked me to do him a favor. He wanted me to drink a "Big Girl" for him. I'm such a pushover, and couldn't turn a good friend down so easily. I ordered another beer.
We had made arrangements to stay at my friend Travis Thompson's house in Kansas City. I called him when we left Manhattan to let him know our approximate ETA. He thought we were going to be there a couple of hours before I had called him, and had decided to start drinking without us. I knew that he was going to be in FINE shape when we arrived.
Fortunately for us, Travis has a Kegorator (sp?) keg fridge in his garage. We decided to have a couple of beers while we waited for some friends to show up. As I mentioned above, Travis was in fine shape. A couple of his cousins were there along with a friend of his. His brother and sister-in-law (Sabian and Denise) arrived and we decided to go to this little bar Travis knows called Jakes for supper. We went in and sat down, waiting for other friends to arrive. Travis's friend Mark arrived with his girlfriend. I introduced Mark to Annita and Amy. As soon as he heard Annita speak, he made a beeline towards her to hear more. Daren Higerd showed up later, as did other friends. We ate a tasty meal and then decided to go back to Travis's to drink free beer from his keg (what are friends for?).
We ended up partying until late into the morning, and even got a visit from the police to tell us to turn the music down. Apparently Travis has some neighbors who are music critics. We were listening to CD's on this little tiny CD player. Even at full blast, you could talk louder than it played. Of course, it didn't help that we were singing at the top of our lungs. We decided to call it a night.
Saturday morning arrived and we headed for the track. When we were within a couple of miles of the track, the bumper-to-bumper traffic started. When we arrived at the Speedway complex, I could hear the screeching of tires. It was intermittant, and I didn't have a clue what it was. As we were inching forward, a huge red Dodge balloon could be seen beside one of the buildings. The further forward we went, the louder the squealing of the tires were. At one point, I saw just the tail end of a red car around the corner of the building, and then it was gone. I looked at Annita and said, "That looked like a Viper!!!" We kept inching forward and I saw it again. It was a Viper. Once we pulled up beside the building, all was revealed. The Skip Barber driving school was putting on a display. There were 3 Dodge Vipers driving around a makeshift road course set up in this huge parking lot. Needless to say, I was a little excited. By the time we made it to our turnoff to get into the parking lot of the track, there were 5 lanes of bumper-to-bumper traffic. We parked the car and began the long trek towards the stands. The track has electric carts that give rides to handicapped and elderly people to save them from walking the long distance. The guy driving had a less than half full cart and offered us a ride. We jumped in and he gave us a ride straight up to the front gate. We asked him if he knew where the VIP tents were and he told us to get back on. He then gave us a ride around to the south side of the Speedway and dropped us off at that gate. They didn't want to go in yet, so we started making our way back north. We went past all the merchandise trailers and booths ending up at exactly the same place the guy dropped up off the first time. We had seen most of what they had to offer, so the girls headed back south towards the VIP tents. I headed further north to where the Dodge ballon and the Vipers were.
All you had to do was fill out a questionnaire and sign a waiver. Then you walk out of the tent and stand in line. You get three laps around the "course" with an experienced Skip Barber Driving School graduate. It was such a rush. After my ride, I made my way back to the car and headed back to Travis's. We lounged around the house for a while before going back to Jake's for lunch. We watched a little of the race while we were eating, but I didn't pay too much attention.
After lunch we headed back to Travis's and picked up his wife, Susan. We then made our way to the Renaissance Festival. We made it there just before Amy and Annita arrived, as was arranged. This was my first trip to a Renaissance Festival and didn't know what to expect. There was a jousting tournament going on. We watched for about 30 minutes, but all they did was prance around and tell stories. We couldn't hear what they were saying and quickly lost interest. It is really a neat set up and I wouldn't mind going again. There were all kinds of arts and crafts, sword smiths, and stuff. We even ate a turkey leg. We left at dark and headed for the hotel.
The next morning, we headed out for the Speedway again. After we parked, we headed straight for the Skip Barber area. Amy and Annita each took a ride in the Viper, and I took ride number two. Just outside of the Viper area, they had one of Bill Elliot's cars, and a Dodge late model car. As we started back towards the stands, Amy started walking back to her car to begin the drive home. Neeter and I wandered around the merchandise trailers looking at everything again. We saw the Cheerios car and we even got to see Mongo.
We finally made our way to the VIP tents. Neeter was a pro at this already, having been at yesterdays race. All of the big sponsors had a VIP tent on the hill, Budweiser, UPS, AllTel, etc. They also had replicas of some of the cars, Earnhardt Jr.'s, Marlin's, McMurray's, Newman's, and a bunch of others. I also had my picture taken with the Coors Light girls.
Neeter led me over to where you can go down to the pits. You walk down the 600 bazillion stairs, through a tunnel, and up 300 bazillion stairs to get to the pits. The tour leader had a little paddle held up, and you were supposed to stay in a group. Neeter told me to slow down, because you get to go down pit road on the outside of the fence, then back up on the inside of the fence, and then you're supposed to leave. I slowed WAY down. We happened to walk by Victory Lane just as the drivers meeting was getting out. We got to see Ray Evernham, Kyle Petty, Sterling Marlin, Jamie McMurray, and a ton of others. The best part was when Ryan Newman walked by. I was trying to get the camera zoomed in and get it sighted in through a hole in the chainlink fence when Annita yelled "WOOOHOOO!!!!" Ryan turned and looked right at me as I snapped the picture. We were standing there discussing where to go next when a NASCAR official told us to hook on to the next tour group and start out. We did, and were standing by the fence when they pushed Casey Mears' car through the fence right beside us. We stepped through the fence and were standing "behind the wall" on pit road. There were tires and toolboxes everywhere. We got to see Bill Elliot's, Sterling Marlin's, Jeremy Mayfield's, Jamie McMurray's, and Ryan Newman's among others. While we were in front of Elliot's toolbox, there was a couple of guys that had grey T-Shirts that said, "Yeah, it's got a Hemi" on the front of them. We started talking to them and one of them has a relation that's WAY up in the Chrysler executive tree. He gave them All Access tickets to the KC race. They moved the backpacks off to the side to show us the back of the shirt. It said, "Sweeeeeet!" They were pretty cool.
We worked our way back down the stairs, through the tunnel, and back up the stairs to the VIP tent area. We went over to the Coke tent and ate lunch. They had Coke and Diet Coke for everyone there. I'm a Pepsi man myself, but since Coke gave us the tickets for free and since Pepsi is a big sponsor of Gay Gordon, I drank SEVERAL Diet Cokes.
We worked our way over to the fence overlooking the track. Neeter said this was a better spot to watch the race from than where the seats up in the stands were, so we decided to stay there. We were up on the hill overlooking turns 1 and 2. I took a couple of shots of the track from our vantage point. One....Two....Three....Four.
I chatted with the guy standing right beside me on the fence through most of the race. He's a Gordon fan, but we got along pretty well anyway. Neeter didn't notice the Gordon hat until about halfway through the race, after she had called him everything but a white man. The guy never seemed to notice. He gave me the frequencies for MRN, the radio that was broadcasting the race. It was pretty neat to listen to. When the radio stations go to commercials, the guys give each other a hard time. One of them went down to try to talk to Matt Kennseth after he collected the wall off the back stretch. The guy said that he declined an interview. He also gave me the frequency for NASCAR's safety crews. This was right after Michael Waltrip had brushed the wall on the backstretch and they were trying to keep him on the lead lap. He made several pit stops every couple of laps trying to fix his car. I typed the frequency in just as one of the guys said, "Tell the #15 that if he speeds down pit lane one more time, I'm going to penalize him." They did the driver announcements and all of the drivers went by underneath us in the back of pickups. They were too far away to get any decent photos of though. The crowd went wild when they announced Earnhardt Jr. and the guy beside me said something about riding on the coat tails of his father. Evidently he's not an Earnhardt fan.
They had a parachutist bring in the American Flag (photo was taken by Amy on the day of the Busch race, but it's pretty much the same). While the Coors Light Twins were singing the National Anthem, the Gordon fan beside me nudged me and pointed at the northern horizon. It took me a minute to finally see what he was pointing at. It was the B-2 Stealth Bomber. I quickly turned my camera on and set it at full zoom. I couldn't see anything of the plane. I glanced up to make sure it was still there, then looked down at my camera again. Nothing. Man.....That stealth stuff really works!!!! I finally saw it as it flew almost directly over head. After the National Anthem finished, they shot off a TON of fireworks on the hill above the backstretch.
The race was again a great one. I've been to two NASCAR events and Ryan Newman won both of them. Maybe Roger Penske should provide me with transportation, lodging, and All Access passes to every race this year. I'm Ryan Newman's "good luck charm!!!!" Somehow I doubt THAT will happen.
There was a lot of hype about Newman cheating on fuel mileage, with Kevin Harvick saying, "If he can save fuel with his foot, then I'll kiss his ass!" I'm still waiting on him to make good on that statement. Especially after his "I'm going to win the race on the second lap" incident at Homestead, where he took out Newman and Busch both. If that had happened to him, he'd have been up on the hood of the guy's car, jumping up and down. I wasn't surprised at all to hear Gordon complaining about Newman cheating. Harvick is second only to Gordon as far as whining goes. The year that Gordon won 13 races in one season, everyone was accusing him of cheating. Newman started winning strong in the last half of the season and now Gordon is calling him a cheater. But, like they said on John Boy and Billy, "It takes a cheater to catch a cheater......"
I know....I know......I'm just whining.
Hope you enjoyed.......